I have been playing with the YafaRay Plug-in. I will post some examples in this thread...
Below is a Render of the Dragon from Stanford...
Stanford 3D Scanning Repository
I used the program
ReMesh
to lower the poly count so that I could load it into Wings3d. Thanks to nSpokes for posting a link to the program...
It took quite a while to get the settings right for Subsurface Scattering (SSS)... Now that I understand it better the next one should be easier... The worst part was the render time.. I tried using Soft Shadows in the Spotlight but with that turned on I lost the glossy look and ended up with fireflies on the model.
I will release a new version of the plug-in with a separate Translucency for SSS so that its default works better. Some other default settings for SSS will change as well.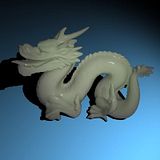 oort